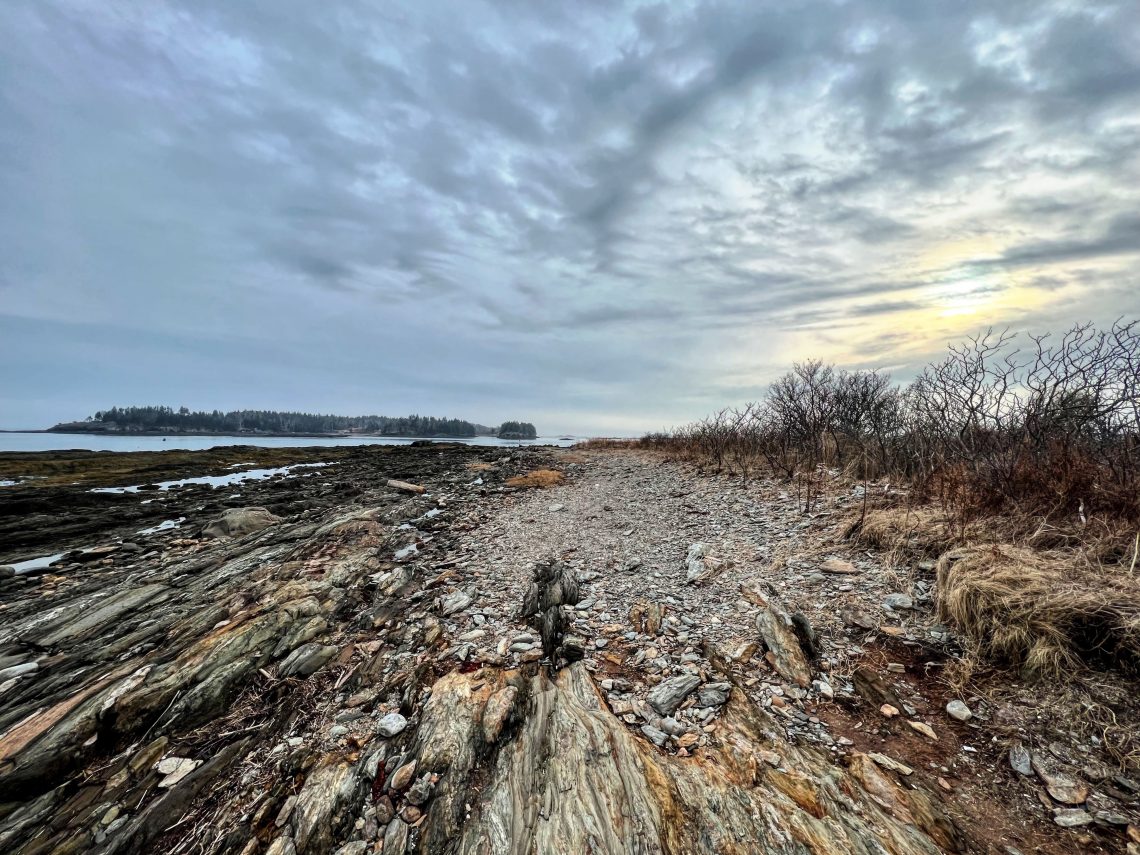 This was a great first trail to do in March because it was shorter, there was barely any snow, it had ocean views, and I only came across two people the entire time I was there. It isn't much of a trail but you can see Maine's rocky coast line here, casco bay, and many islands in the distance. This trail was perfect for a random adventure to get out of the house. It is perfect if you want to explore, have a picnic or if you just want to sit by the ocean for a while and clear your mind. I would definitely visit this spot again.
Trail Information
Trail #1 of 2022
Date completed: March 17, 2022
Location: Harpswell, ME
Length: 1.1 mi
Elevation gain: 62 ft
Route type: Out & back
AllTrails rating: Easy, 4.3/5🌟
Potts Point Preserve AllTrails Link
AllTrails Overview: "Get to know this 1.1-mile out-and-back trail near Harpswell, Maine. Generally considered an easy route, it takes an average of 22 min to complete. This is a popular trail for fishing, hiking, and running, but you can still enjoy some solitude during quieter times of day. The trail is open year-round and is beautiful to visit anytime. Dogs are welcome, but must be on a leash." – Potts Point Preserve AllTrails Link
AllTrails Description: "This small preserve has big diversity to see and explore. Here visitors will find rocky coastlines, tidal pools, and views of Casco Bay. Numerous coastal islands such as Pinkham, Haskell, Bailey, Upper Flag, Thrumcap, and Horse Island can all be spotted as well. Dogs should remain on leash while walking on private Potts Point Road leading into the preserve." – Potts Point Preserve AllTrails Link
AllTrails Tips: "The trailhead brings you to the parking area. You may either walk down Pott's Point Rd (which is a private road, so please be respectful) or you may access the preserve by walking the shoreline." – Potts Point Preserve AllTrails Link
My Adventure Story
I started my adventure near the boat launch area. I explored the pier and then walked along the sandy beach. I sat on some wet rocks and just listened to the waves crash for a while before continuing on. There was nobody around so it was peaceful and relaxing.
As I continued down the beach, I stopped frequently to enjoy the view. The beach was filled with a ton of shells and snails which I tried to avoid stepping on as best as I could. It was a foggy and dreary day, but it did not ruin the view for me at all. There were not a lot of people around, so I was able to stop and enjoy the sounds of the ocean at my own pace.
The further down I got, the more ocean I could see, especially off in the distance. The trail became more rocky as I got closer to where the land ends, but it was fun to climb along the rocks even if they were wet. The rocks eventually led me to another beach area with tidal pools. I sat here for a while and took it all in.
As mentioned in my blog, nature is my happy place and the ocean has always been one of my favorite places to be. There is nothing like listening to the waves crash and being able to just remain calm and at peace. I wish there was a way that I could explain how it makes me feel, but it really is indescribable. It is just a feeling – my favorite feeling.
I did the loop around the peninsula and started to head back the same way I came. On the way back the sun started to peak out through the clouds. The trees and plants were still dead from the winter, but the sun was hitting them perfectly and it looked like they were glimmering, it was beautiful.
The other side of the peninsula was dry and covered in shells. This side provided just as beautiful a view as the other side did. The sun was still trying to come through, but the clouds were not parting. I was going to try to wait until sunset, but it didn't seem like it was going to clear up.
On my walk back to my car I took my time. I ran into one person walking their dog and had a friendly afternoon chat. I stopped and enjoyed each and every view one more time before I had to leave. I randomly found this trail and ended up doing it because I was in a rough spot this day and I am so happy that I did. It is crazy to me how much my mood changes when I am in nature and when I can run through my thoughts quietly and peacefully.
Trail Video
Every trail that I complete I will be putting together a video of my experience on the trail.
It will be a first person point of view video which is almost like you are there with me on the adventure.
You can find this video on my Instagram here and on my TikTok here.
Message From the Author
Thank you for reading this post and for following me, my journey and my adventures.
I spend most of my time on Instagram where I share most of my day-to-day life and I would love for you to say hello to me there.
You can also follow me on any social media platforms (see links below) and subscribe to my email list to be the first to get inspiration right in your inbox.
– xoxo Mindy
Real & Authentic. Happy & Healing.