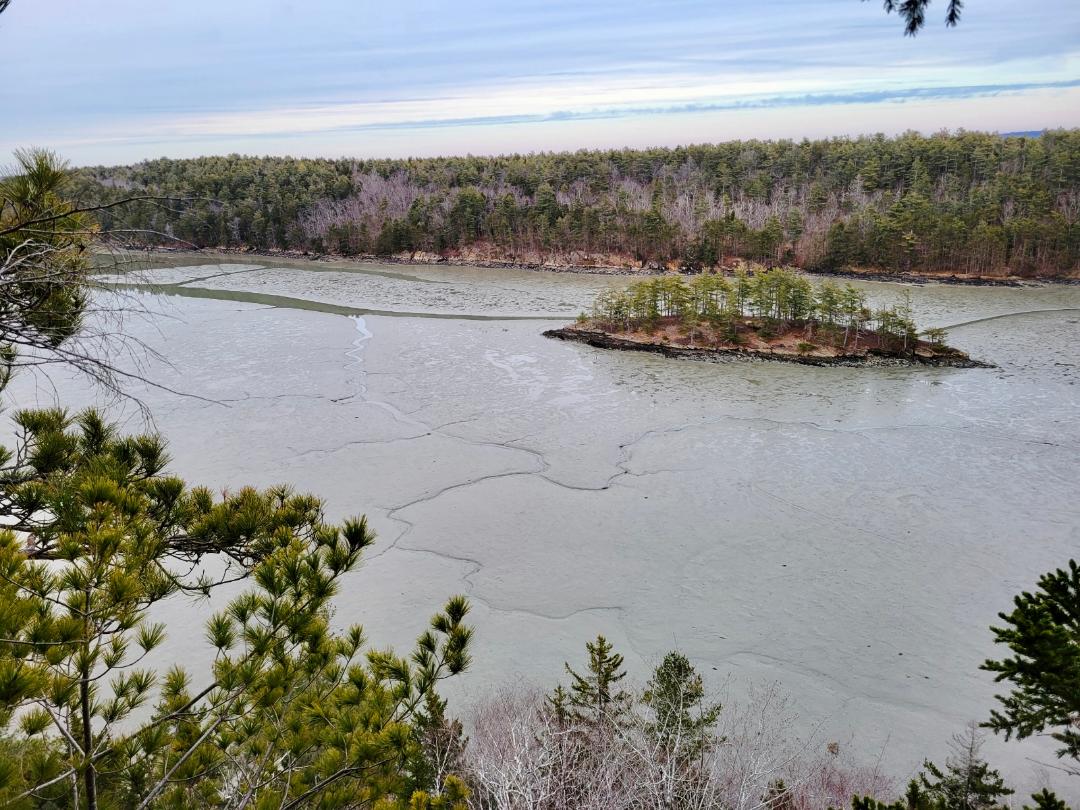 This adventure was planned last minute, but ended up being totally worth it. AllTrails states that the trail is 2.1 miles long, but we strayed off the trail a few times to see lookouts and vistas, so our overall total was 2.9 miles. The day Nick and I went we decided at 4:00pm, when I was out of work at 4:30pm, that we needed to get outside. On our way to the trail it was partly sunny and warm, but once we got to the trail, the weather was cloudy and the ocean was at low tide. So the view wasn't what we expected, but it was still beautiful.
When I first started adventuring I always focused a lot on the view because it's the most important part, right? I mean, yes, to an extent. However, I quickly learned that you cannot control everything, especially the weather, so letting a not so perfect view ruin your time is unnecessary. Instead, I have learned to focus on the entire journey of the adventure as a whole because that's what really matters.
Trail Information
Trail #3 of 2022
Date completed: March 30, 2022
Location: Harpswell, ME
Length: 2.1 miles
Our total: 2.9 miles
Elevation gain: 262 ft
Route type: Loop
AllTrails rating: Moderate, 4.5/5🌟
Cliff Trail AllTrails Link
AllTrails Overview: "Head out on this 2.1-mile loop trail near Harpswell, Maine. Generally considered a moderately challenging route, it takes an average of 52 min to complete. This is a very popular area for birding, hiking, and running, so you'll likely encounter other people while exploring. The best times to visit this trail are April through October. Dogs are welcome, but must be on a leash." – Cliff Trail AllTrails Link
AllTrails Description: "The Cliff Trail is the longest and most difficult trail in Harpswell. The trail leads through the woods with scenic viewpoints along the way. Dogs are required to be on leash from 10 AM – 4 PM on this trail. Off leash and under owner control at all other times. Under owner control is defined as – dog is within sight and returns promptly upon command. According to Accessible Nature (https://www.accessiblenature.info/?page_id=157#local): The first 1/2-mile along Strawberry Creek to the Head of Tide and overlook was just finished to ADA standards.
Accessibility: The most accessible portion of the trail is the first about 0.3 miles when going clockwise on the Cliff Trail Cascade Overlook: https://www.alltrails.com/trail/us/maine/cliff-trail-cascade-overlook. Beyond about 0.3 miles, visitors using wheelchairs, mobility equipment, or strollers may need assistance or need to avoid the rest of the trail for safety due to narrow and rocky areas.
Accessible Parking: Number of designated accessible spaces: 4 at the trailhead; Number of van-accessible spaces with access aisles: 4; Parking lot surface: paved." – Cliff Trail AllTrails Link
Trail Details: "Trail surface: gravel, a natural surface (dirt, rocks, roots), wooden bridge with edge barriers; Average trail width: 3 feet; Estimated average grade category: mostly gentle (5% or less) with steeper sections at about 0.6-1.1, 1.4, and 1.6-1.7 miles when going clockwise." – Cliff Trail AllTrails Link
AllTrails Tips: "Please park at Harpswell Town Office located at 263 Mountain Road. Parking is available at Harpswell Town Office." – Cliff Trail AllTrails Link
My Adventure Story
As stated in the trail information section, this trail starts behind the Harpswell Town Office. There is a big parking lot for the office building which is where we parked after office hours, so it was empty. You can start the loop trail from either the left side (starting on a mile long road, hiking the cliff, then ending with a trail through the woods) or the right side (starting in the woods, hiking the cliff, then ending on a mile long road) – we started on the right side.
Along the trail on the right side we came across an opening which had a small road, a tower and a recycling center. The recycling center had a huge pile of broken toilets so that was kind of interesting. After passing this sight the trail led us back into the woods. A short distance later the Cliff Trail "officially" started (as per the trail sign seen above).
This side of the trail, through the woods, was well marked and we had no trouble finding where to go. We also downloaded the AllTrails map and used it as guidance which was super helpful. There were a lot of tree roots throughout the trail, but they were easy to avoid if you were paying attention. They honestly made for a very pretty hike.
At this time it was late March in Maine, so nature was still coming out of winter mode. There were areas that were wet, some small ponds and puddles were still frozen, and there was snow in areas that did not get much sunlight.
While some areas of the trail did not get a lot of sunlight, others did. There was still a good portion of the trail that was already vibrant green and beautiful. You could see the small plants and moss blooming, small streams flowing, and leaves growing.
Once we got to the top of the cliff the sun was already starting to go down. We knew that we did not have a lot of time until it got dark so we enjoyed the view as long as we could and started back up. It was a beautiful view even when the weather was cloudy and the ocean was at low tide. We could see a line of ducks swimming in the little bit of water around the center island and there were a few birds flying around squawking. Up to this point we had not seen anyone else on the trail and there was nobody at the top. Taking in the view was quiet, calm, and peaceful.
After taking in the cliff view we continued further along the trail and saw a frozen waterfall (see above, on the left). The view from here is probably gorgeous during late spring or summer if the waterfall actually flows. As the sun started to set more, the trail got darker, but between the trail being well marked well and the AllTrails map we were able to find our way around.
We stopped at a few lookout areas where we saw a gaggle of geese and another waterfall. Unfortunately the area around the last waterfall (see above, on the right) was muddy so we were not able to get as close as we wanted. The last part of the trail was a flat, gravel road that led back to the parking lot.
Trail Video
Every trail that I complete I will be putting together a video of my experience on the trail.
It will be a first person point of view video which is almost like you are there with me on the adventure.
You can find this video on my Instagram here and on my TikTok here.
Post Hike Snacks
On our way home after we finished the trail we stopped at Brynes Irish Pub in Bath, ME to get beer and wings – our favorite meal after a good hike! This pub is one of our favorites in this area so we eat here frequently. They always have a great rotating draft list filled with local brews as well as mixed drink specials. The food menu is shorter, but has many delicious options and they always have rotating weekly specials.
Personally, we recommend the wings because they are always crispy and juicy. We love the homemade whiskey sauce or the unicorn wings which is their take on a garlic buffalo sauce with shredded parmesan – some of my favorite wings in the area!
ALSO! If you are a fan of trivia, they host their own every Thursday at 6:30pm.
The above photos are from Brynes Irish Pub's Facebook page. All credit goes to them.
Message From the Author
Thank you for reading this post and for following me, my journey and my adventures.
I spend most of my time on Instagram where I share most of my day-to-day life and I would love for you to say hello to me there.
You can also follow me on any social media platforms (see links below) and subscribe to my email list to be the first to get inspiration right in your inbox.
– xoxo Mindy
Real & Authentic. Happy & Healing.